by Jan Lane G. Canseko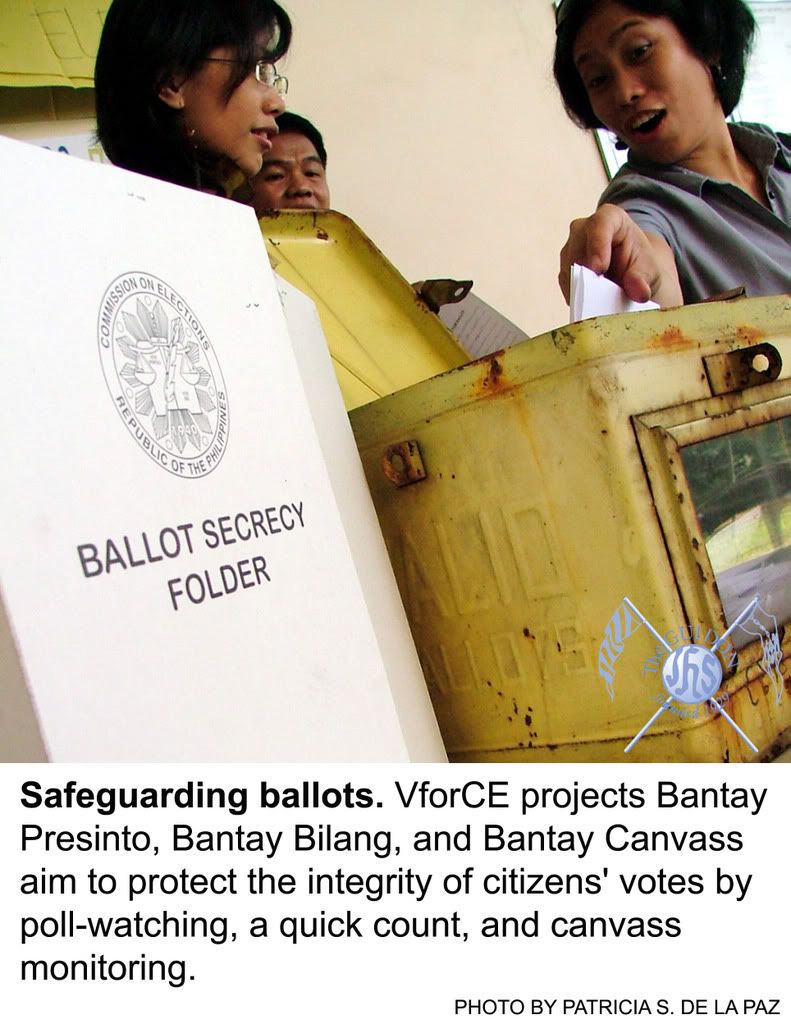 SLB and Sanggu contribute to voters' education

FROM MAY 1 to 14, Simbahang Lingkod ng Bayan's (SLB) Bantay Call Center project will be open to answer election-related inquiries. Callers anywhere from Luzon, Visayas, and Mindanao can dial 10-149 from a PLDT landline to talk to a tele-educator for free.

Geared towards people who cannot read or who have limited access to the Internet, the two-week activity aims to help people make educated votes. It will also be made available to OFWs.

For those who have easy access to the Internet, various institutions like the De La Salle University (DLSU) and the Makati Business Club (MBC) have provided Web sites that present information on candidates' profiles.

With the importance of political education among voters, especially the youth, candidates' forums were also held. The Union of Catholic Student Councils (UCSC) and the Sanggunian ng mga Mag-aaral (Sanggu), under the leadership of former President Luis Abad (AB Eco-H '07), sponsored a senatorial candidates' forum at St. Scholastica's College (SSC) last March 9.

Ateneo orgs handle VforCE communications
WITH THE elections fast approaching, several organizations have pushed for political consciousness and volunteerism through communications and resource-generation.

For the Ateneo effort, the Ateneo Debate Society (ADS), the Harvard Project for Asian and International Relations (HPAIR), and the Association of Communication Majors (AComm) are leading the communications work. Batch 2007 valedictorian Leloy Claudio (AB Comm '07) and former HPAIR President Sharmila Parmanand (AB PoS '07) are heading this initiative.

Parmanand said that they are working for the visibility of VForCE in mainstream media to reach a bigger audience. In partnership with advertising company Campaigns and Grey, they conceptualized a media campaign which is set to be broadcasted soon.

The Makati Business Club (MBC), meanwhile, is handling logistical support for the Democracy Fund. Key leaders of One Voice, a non-partisan movement calling for social and electoral reforms, are also undertaking the overall effort in coordination.

AHRC and Law School Student Council to help monitor canvassing

TO ENSURE the effectiveness of election monitoring, the group 1 Million Volunteers for Clean Elections (VforCE) has launched three projects: Poll Watch 2007 or Bantay Presinto, Operation Quick Count or Bantay Bilang, and canvass monitoring or Bantay Canvass.

The Parish Pastoral Council for Responsible Voting (PPCRV) will lead the poll watch, the National Citizens' Movement for Free Elections (Namfrel) will conduct the quick count, and the Legal Network for Truthful Elections (LENTE) is in charge of canvass monitoring.
LENTE is a nationwide network of lawyers, law students, and paralegals. The Ateneo Human Rights Center (AHRC) and the Ateneo Law School (ALS) Student Council are part of LENTE. Atty. Carlos Medina Jr., executive director of the AHRC, is also a LENTE co-convenor.
Bantay Presinto, meanwhile, aims to ensure clean and fair elections by designating trained poll-watchers to monitor counting activities, while Bantay Canvass will watch over the aggregation of votes at the municipal, city and provincial levels and respond to calls for legal assistance.
Ateneo groups help communities develop agenda

TO HEIGHTEN political awareness and responsibility among Filipinos, the group 1 Million Volunteers for Clean Elections (VforCE) developed Pinoy Voters' Academy. VforCE also came up with Bantay Pangako, a project that allows communities to set their agenda, choose their candidates, and hold these candidates accountable. It also involves monitoring the fulfillment of campaign promises after the elections.

Bantay Pangako is concerned with direct community development work, which involves various social involvement offices such as former members of the now-defunct Socially-oriented Organizations of the Ateneo (SOA), Gawad Kalinga (GK), and the Office for Social Concern and Involvement (OSCI).

Department of Economics Lecturer Philip Tuano and Benjamin Barretto, special project assistant for development of the Ateneo School of Government (ASG), are coordinating Bantay Pangako.

with a report from Xianne S. Arcangel